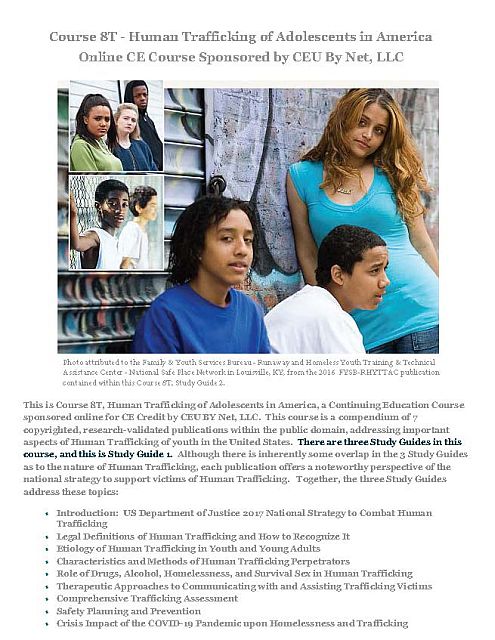 Still needing that HHSC-approved Human Trafficking Course certificate to renew your Texas healthcare license? You have found it, for $22 - or FREE!
Renew your mental health or addiction license with the required Human Trafficking course offered online by CEU By Net. This course awards an instantly downloadable certificate plus eight hours of continuing education credit
approved by State and national
licensing boards.
'Human Trafficking of Adolescents in America' earns 8 CEUs and PDHs accepted by EACC, NAADAC, IC&RC, and most Mental Health and Addiction Boards nationwide. The course also earns 5.5 NBCC credit hours for NCCs.
The goals of this Human Trafficking prevention course also support continuing education credit in Ethics, Cultural Awareness, Trauma-Informed Care, and Community Coordination, for social workers, mental health and addiction counselors, and marriage and family therapists.


Pay $22 to take this online course, or take it for FREE with CEU By Net's Annual Subscription - just $49 for unlimited CEUs for an entire year.
---



CEU By Net's trafficking course provides a sensitive understanding of the physical and emotional trauma inflicted upon adolescent victims of sex and labor trafficking, and the reasons why they are unable to escape their controllers without help from behavioral health and law enforcement professionals.
The course contains a trauma-informed Human Trafficking Assessment for use with adolescent victims, research-based and client-centered intervention strategies, and effective methods of coordination with law enforcement to facilitate prosecution of sex and labor traffickers.

---

---

Human Trafficking of Adolescents in America teaches a culturally sensitive, ethical approach to working with homeless and runaway youth who live on the street and become sex and labor trafficking victims, as well as those who are living at home and going to school - trafficked by family or boyfriend or the neighbor next door.
The course teaches how to ethically identify and support trafficking victims regardless of where they are encountered - in schools, in the ER, at the local laundromat or pharmacy, on the street corner, the back alley, or 'hidden in plain sight.'

The course explains the criminal and abusive nature of trafficking by perpetrators, the situations in which youth become lured into being trafficked, and the reasons why they find it difficult to extricate themselves from their controllers. Controlling factors include alcohol, drugs, homelessness, hunger, fear, and the necessity of engaging in survival sex to feed themselves.

Critical issues include teaching traumatized youth how to remain safe on the street while still controlled by their trafficker, how to obtain medical and social support services which are required to survive and eventually escape from the trafficking situation, and how to plan escape from the perpetrator when support plans are in place.
The GOALS of this course:
1. Learn the focus, approach, and achievements of the US Department of Justice and its partner organizations in the National Strategy to Combat Human Trafficking

2. Know the legal definitions of Human Trafficking for both minors and adults as defined by the Trafficking Victims Protection Act (TVPA), and know how to recognize the various forms of sex trafficking and labor trafficking to which victims are submitted.

3. Understand the typical etiology of how Human Trafficking occurs in the lives of homeless and runaway youth, and why escape is difficult or impossible without Trauma-Informed assistance and coordination between law enforcement and behavioral health professionals within the community.

4. Know the characteristics and methods of Human Trafficking perpetrators and the diverse settings in which they operate -- actions which not only violate the human rights of the victims, but are also a violation of the law in the United States.

5. Understand the pervasive role of drugs, alcohol, homelessness, deprivation of human rights, and survival sex in Human Trafficking and the resulting emotional and physical impact upon trafficking victims.

6. Learn trauma-informed, therapeutic, and ethical approaches to communicating with and assisting trafficking victims in a situation which is inherently infused with fear and mistrust -- acting in the best interest of the client while respecting their autonomy as an emancipated minor.

7. Understand the issue of 'scope of practice' when working as part of a Human Trafficking team, i.e., which parts of a Trafficking Assessment should be performed by credentialed staff vs. those that can be performed by unlicensed staff, and the necessary skills and training required to work with this fragile population.

8. Learn the elements of a culturally-sensitive, trauma-informed Trafficking Assessment -- the ethical and therapeutic approach to gathering sensitive information from the victim, including assessment language and questions, important trauma-sensitive dynamics, and respect for privacy and confidentiality including safety considerations.

9. Know how to help trafficking victims to develop a safety plan at various stages in the human trafficking situation – while a victim is in the situation, during the process of leaving, and once the victim has left – and how to ensure safety for staff within the program.

10. Recognize the impact of the COVID-19 Pandemic upon resources for homeless and runaway adolescents who are targets of Human Trafficking perpetrators.
Austin, Texas

(214) 402-2001

administrator@ceubynet.com



All content on this site is Copyright (c) 2006-2021 by Pendragon Associates and/or CEU by Net