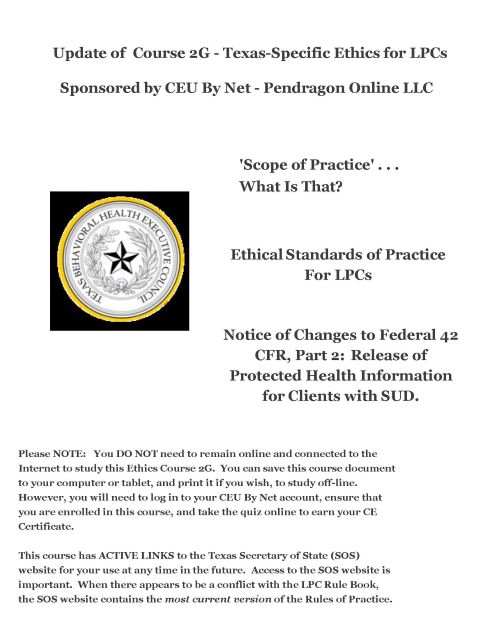 Welcome to CEU By Net! Looking for that 2-hour Ethics course for Texas LPCs?

We have it - 2.5 CEUs - Rules of Practice for Texas LPCs.' Enroll in the course, take the short quiz, and download your instant online certificate for 2.5 credit hours. Done.

The course is online here, and it's only $10,
or it's FREE if you have our Unlimited CEU Plan, which is only $49 per year.

And are you also looking for the HHSC-approved course on Human Trafficking? We offer that, too!

---

This course is in sync with the new 2022 LPC Rule Book published by the Behavioral Health Executive Council and the LPC Board, and Texas Title 22, Part 30, Chapter 681, Subchapter B - Rules of Practice, published on the Texas Secretary of State (SOS) website.

The LPC Rules of practice will undergo changes from time to time. The BHEC and LPC Board have advised us that the official and binding Rules of Practice will always be those published on the SOS website. And so how to 'Keep Current' with the LPC Rules of Practice?

We have structured this downloadable course document to quickly locate the most current Subchapter B Rules of Practice on the live SOS website, when you want to check the official Rules at any time in the future. How?

When you are connected to the internet, the ACTIVE LINKS in this downloadable Study Guide will take you to the

live

Secretary of State website - and the version of the Rules of Practice that you find there (e.g. RULE §681.31) will ALWAYS be the most

recent

,

official version

of the Rules of Practice for LPCs.

---

Topics addressed in this short course include the following:

- 'Scope of Practice' - What Is That? How is it connected to the LPC Rules of Practice and to your legal security?




- 'Prevailing Standard of Care' - This principle is a component of Scope of Practice. Learn the meaning and use of the term 'Prevailing Standard of Professional Care,' its relevance to compliance with the LPC Rules of Practice, and its significance to the outcome of civil suits.




- Reinforcement of several Rules of Practice pertaining to the authorized methods, techniques, and modalities that are to be used by Texas LPCs.




- Information pertaining to the recent changes in Federal regulation 42 CFR Part 2 pertaining to the confidentiality and release of clients' SUD treatment records by healthcare providers. The Federal changes are intended to facilitate exchange of information that is crucial to effective treatment intervention.

---

If you need more CEUs than just this course, take a look at our Annual Subscription, HERE. It's only $49 for an entire year of UNLIMITED CEUs. It's our most popular purchase option. CEU By Net offers over 185 approved CE hours.

CEU By Net is an accepted/approved CE Provider for the Texas Behavioral Health Executive Council (BHEC) and the LPC Board. All of the course credits on this website are also approved by NBCC, and therefore, if you are a Texas LPC and also an NCC, you may also count 1.75 Credit Hours toward your NCC continuing education requirement.

Thanks for visiting our website - CEU By Net!
All content on this site is Copyright (c) 2006-2021 by Pendragon Associates and/or CEU by Net