'Cookie' Settings - How To Enable Cookies, So That
You Can Log In to Your CEU by Net Account!
If you use your computer for regular internet browsing, you probably already have COOKIES enabled!
Please note that COOKIES MUST be ENABLED to log into your account with your password and email address. Is this safe? YES. Your state licensing board uses cookies in exactly this way, if you renew your license on-line.
---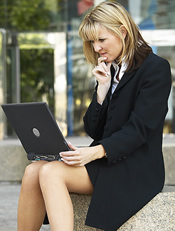 If
you are having trouble signing in to our site once you have made a purchase, you may need to ENABLE OUR COOKIES. On this page we give you some specific instructions about cookie settings, so that if your computer is NOT accepting our cookies, you can ENABLE OUR COOKIES.

What is a COOKIE? State and local government websites and on-line banking use 'cookies'. So does your State licensing board, if it allows you to renew your license on line.
It is a bit of computer data created by a website which allows you to log in to your account with a password . . . and may be present so that you can quickly open a certain web page. If you browse the internet, you most likely have many 'cookies' present on your computer for the sites that you frequent the most.
---
The Details of Enabling Cookies . . .
Which of These Internet Browsers Are You Using?

Please CLICK ON THE LINK BELOW To Go To Instructions For Your Browser!


Internet Explorer 6.0

Are you using a firewall? Go here.
If you're using Internet Explorer 6.0 . . .
Choose TOOLS. Then,

Click on 'INTERNET OPTIONS' at the bottom of the drop down menu. Then,

Click the 'PRIVACY' tab. Then,

If you do not see a slider bar, click DEFAULT and the slider will appear. Then,

Move the slider to no higher than "Medium" [See the IE example 1 below]

Alternatively, you can click on the "SITES" button on the Privacy tab and add "" as a site that is always allowed to use cookies. [See the IE example 2 below]
Example 1 for Internet Explorer 6.0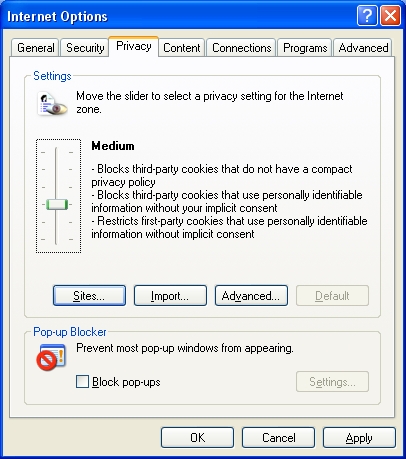 Example 2 for Internet Explorer 6.0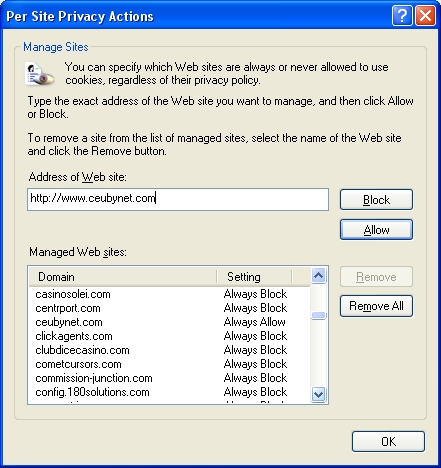 If you're using Netscape . . .

To 'Enable Cookies', on your Netscape Task Bar up at the top of your screen, click:
TOOLS, then


OPTIONS, then


SITE CONTROLS, then


On the right side, check 'ALLOW COOKIES'


AND WHILE YOU ARE IN THIS TASK BOX, go ahead and check the top 3 items above the 'cookie' item so that you can ENABLE pop-ups. This will allow your course study guides to be displayed.


AND FINALLY . . . WHILE YOU ARE IN THIS TASK WINDOW, PLEASE CLICK 'INTERNET EXPLORER' in the 'RENDERING ENGINE' box at the bottom of this task box. This will make it possible for these website pages to appear correctly.
See the Netscape Settings Screen Shots below.

Setting Cookies and Allowing Pop-Ups in Netscape: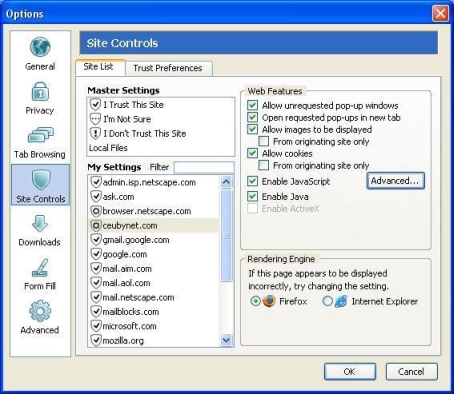 If you're using Mozilla (Firefox) . . .

On your Task Bar, click:
TOOLS, then


OPTIONS, then


PRIVACY, then


COOKIES, and


Check 'ALLOW SITES TO SET COOKIES'
See this Mozilla (Firefox) example below:
If you're using another browser . . .
Other browsers and other security software use similar setting options for 'cookies' - the screen shots above will give you a good sense of how to do it, no matter which browser you are using! If in doubt, please check your browser's HELP section.


Please Note: You MUST have cookies enabled
to log in to this website
with your user name and password.
Are you using a firewall like Zone Alarm? Or other Anti-Spyware Software? Here is one example - look at the Zone Alarm setting screen shot below: When you are using Zone Alarm security software, you can use a screen like the one below, to include CEU by Net!! in your 'approved cookies' configuration. With Zone alarm, you will perform these actions:
1. Click on PRIVACY, then

2. Click on SITE LIST, then

3. Click on ADD.

You will then enter this website in the space provided, as www.ceubynet.com , and click to ADD the approval for our site. (See our example of the green check marks next to www.ceubynet.com, which is 3rd on the list.)
See Zone Alarm Screen Shot Below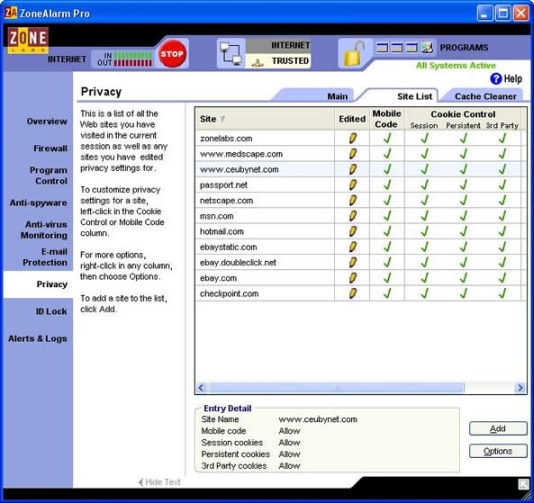 Our materials are presented in a colorful, easy-to-tolerate slide presentation, in a dazzling Macromedia Flash format, with refreshing bluntness, easy-to-absorb bullets, and GREAT humorous clip art! Learn and have some fun at the same time!
And best of all . . . it's all automated, over the web, 24/7 - the course materials, the quizzes, the feedback questionnaires, AND the certificates. You will never have to wait for a human to review your quiz and award your certificate! You will never have to fax-and-wait! Middle of the night - weekends - national holidays - whenever.